Matcha Green Tea Granola
Granola is a breakfast staple. Be it in a favorite bowl with almond milk over to served as cereal, or even on top of some cool creamy coconut yogurt with fresh fruit. Everyone should have a good granola recipe on hand. Here is my personal favorite Enjoy
makes 5-6 cups
3c Quick Oats
2T Matcha Green Tea Powder
1c Agave Nectar
1/3c Coconut Oil (melted/liquid)
1/2c Dehydrated Apple chips
1/2c Dehydrated Peach chips
1/2c Dehydrated Strawberry chips
1/4t Sea Salt
Equipment:
-Chef's Knife
-Cutting Board
-Large Mixing Bowl
-Wooden Spoon,
-Mixing Spoon
-Parchment Lined Baking Tray
-Dehydrator
-Lined Dehydrator (for fruit chips)
-Storage Container with Air-tight Lid
Preheat oven to 325F
In a large bowl, mix together liquid coconut oil, agave nectar, sea salt, and matcha green tea powder until thoroughly combined. Add oats and mix until all oats are completely and evenly coated. Transfer mixture on to a parchment lined baking tray. Bake for 30-35 minutes. Watch for around the edges of your granola for caramelization/browning as an indicator that your granola is definitely ready. Set aside and allow to cool. Once cool, add your dehydrated fruit and store in an air tight container.
For Granola Bars:
Add 1/2c of water to your liquid mixture before mixing in oats. Blend well. Proceed to adding rolled oats as well as your choice of dried fruits, nuts, and protein powder. Transfer mixture on to a lined baking sheet. Firmly press mixture down until everything is evenly compacted. Bake approximately 30-35 minutes.
Remove granola from oven and slice into bars while they are still warm and in the pan. Once they are cooled you may drizzle a bit of melted chocolate for an added sweet touch.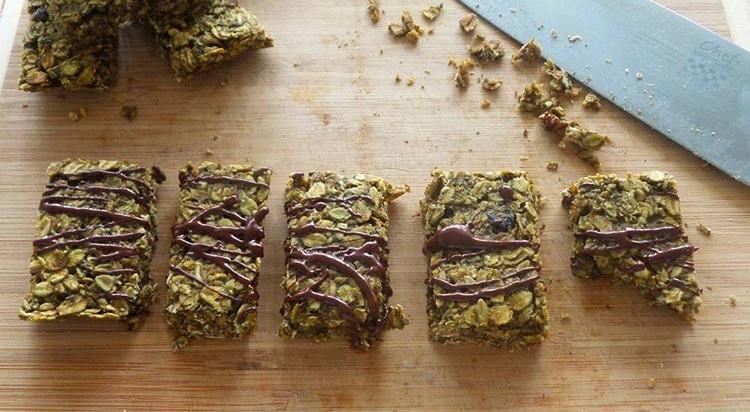 © Copyright Korennrachelle